Smithsonian magazine 18th Annual Photo Contest begins March 31, 2020, and ends November 30, 2020, at 5:00 PM Eastern Standard Time. By submitting an entry, each contestant agrees to the rules of the contest and states that he or she is 18 years old or older.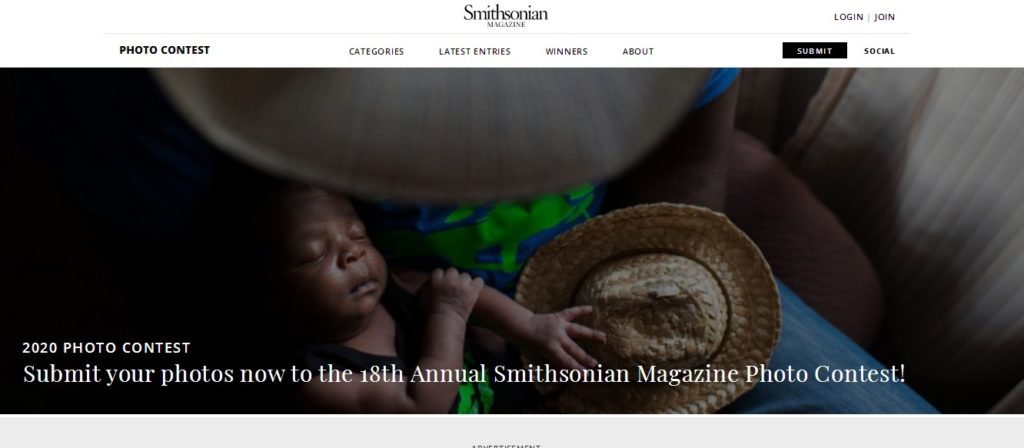 Who may enter:
The Grand Prize, Readers' Choice prize, Natural World, Travel, People, The American Experience, Altered Images and Mobile category prizes are open to photographers who are 18 years old or older. Individuals affiliated with the Smithsonian Institution, including employees, emeriti, Regents, trustees, interns, volunteers, fellows, research associates and their immediate families (children, parents, siblings and spouses) and others living in their households are not eligible for any prize. The Smithsonian will determine winners' eligibility in its sole discretion.
What to enter:
The following six contest categories are drawn from subjects of special interest to Smithsonian magazine:
1. Natural World: Animals, plants and landscapes; geological or climatological features; and scientific processes and endeavors.
2. Travel: Locales, peoples or activities in the United States and abroad that convey a sense of place.
3. People: Portraits and photos of groups or individuals.
4. The American Experience: Events, objects or activities connecting the American people to their history or their cultural heritage; photographs that tell us what it means to be an American and provide a sense of what it is like to live in this country.
5. Altered Images: Photographs manipulated for artistic purposes by applying digital and/or traditional special effects.
6. Mobile: Any photograph taken with a mobile device (phone or tablet).
How to Enter:
Please submit photographs and requested information online through our website at smithsonianmag.com/photocontest. You may submit up to 15 photographs per category for a contest total of 90 submissions. In order to be displayed in our online gallery without being stretched or distorted, photographs must be submitted in .jpeg, .jpg or .gif format, edited for web in sRGB color space, at least 2,000 pixels wide and no larger than 10 MB. You must complete a separate form for each photo submitted.
We do not accept photographs submitted through the mail and do not accept more than one contestant per e-mail address. High-quality scans of non-digital photographs are acceptable. Digital photographs should be taken at the highest resolution possible.
Finalists must be prepared to submit an original, unedited digital file or an original negative, print or slide. Original negatives, prints or slides will be returned to finalists. The Smithsonian Institution reserves the right to disqualify incomplete entries and/or contestants who are unable to submit, upon request, a high-resolution photograph of at least 300 dpi at 3,000 pixels on the longest side or an original photo negative, print or slide. Mobile photographs are exempt from this size requirement, but must be submitted at their highest resolution upon request.
Entry deadline:
The contest begins on March 31, 2020. All entries must be received through Smithsonianmag.com by 5:00 PM Eastern Standard Time on November 30, 2020.
For more details click here.