2ND STAGE OF THE WORKSHOP FOR STUDENTS WILL BE HELD ON TOPIC: "LITERATURE Of KOREA IN THE 20TH CENTURY"
March 24, 2023
390
At the Uzbekistan State World Languages University, within the framework of the International Research Project Seed Program for Korean Studies "Linguocultural aspects of teaching the Korean language and literature in the Republic of Uzbekistan" of the Korean studies program of the Ministry of Education of the Republic of Korea and the Korean Studies Promotion Service of the Academy of Korean Studies of the Republic of Korea, the 2nd stage of the Workshop for students will be held on the topic: "Literature of Korea in the 20th century".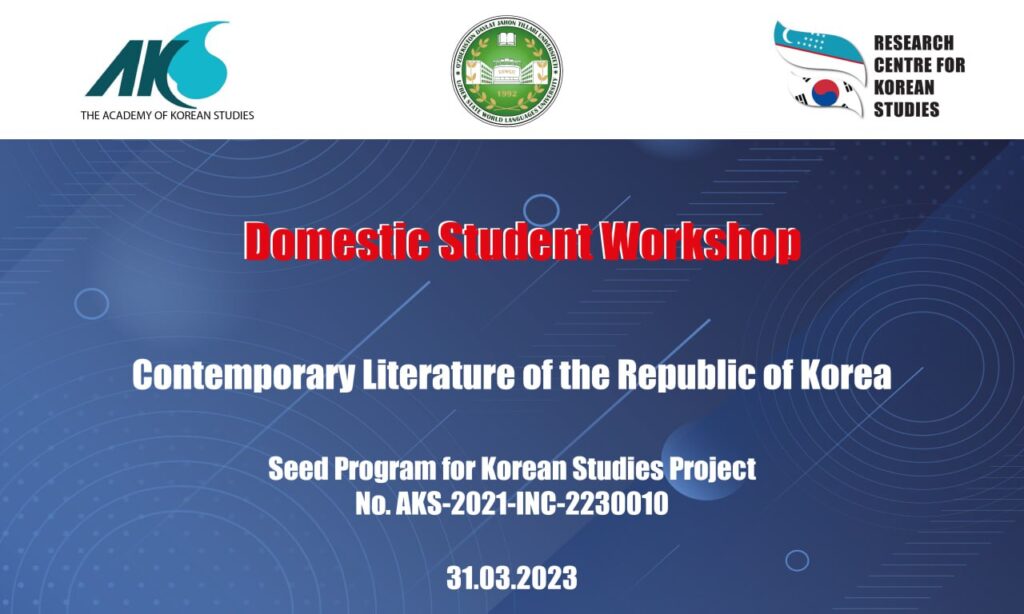 Students from Kime International University in Tashkent, Tashkent State Pedagogical University named after Nizami, Uzbekistan State World Languages University will compete for 1,2,3 places.
Organizers: Research Center for Korean Studies at UzSWLU, Oriental and Translation Faculties of the university.
Date & Time: March 31, Friday, beginning at 12.00
Venue: UzSWLU, assembly hall, 2nd floor (rector's office building).
Inquiries by phone: +998909292067 (Elkin Denis Yurievich)