The Global Undergraduate Exchange Program (Global UGRAD) provides a diverse group of emerging leaders with a scholarship for one semester of non-degree academic study at a U.S. college or university. The program is sponsored by the U.S Department of State's Bureau of Educational and Cultural Affairs, and open to undergraduate students from all world regions. Successful applicants can expect an in-depth exposure to U.S. society, culture, and academic institutions, as well as opportunities to enhance their professional skills.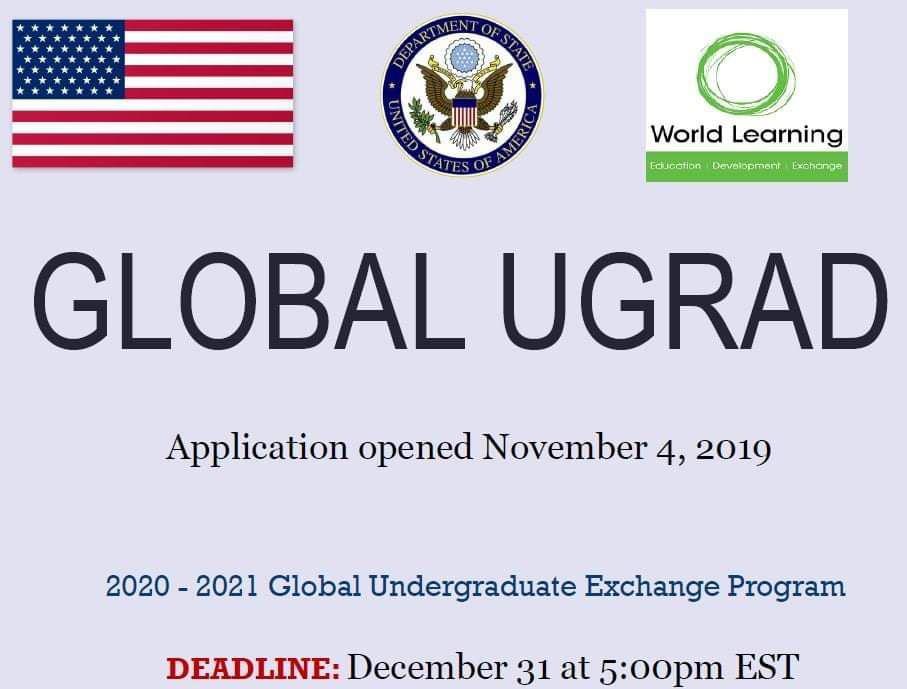 Successful applicants will be enrolled in full-time, non-degree, undergraduate course work chosen from their host institution's existing curriculum. The Program cannot guarantee the availability of specific courses to students.
Candidates will be considered without respect to race, color, religion, national origin, or gender. Persons with disabilities are strongly encouraged to apply. Competition for the Global Undergraduate Exchange Program is merit-based and open to people who:
Are at least 18 years old at the start of the program;
Are citizens of Uzbekistan, currently residing and studying in Uzbekistan;
Are enrolled in full-time undergraduate programs in good standing at any accredited university in Uzbekistan;
Have completed a minimum of their first semester of study prior to starting their Global UGRAD Program;
Have at least one semester or an equivalent term to complete at their home institutions at the conclusion of the Global UGRAD Program. The Global UGRAD program cannot be the final academic term of a student's undergraduate study;
Can demonstrate leadership potential through academic work, community involvement, and extracurricular activities;
Have a solid command of written and spoken English. The TOEFL exam will be required of those selected as finalists or alternates;
Are able to begin studies in the United States in August 2020 or January 2021;
Are eligible to receive and maintain the U.S. student exchange visa (J-1) required for the program; and
Are committed to return directly to their home country after the completion of the program.
Applications must be in English and must be submitted online by December 31 at 5:00 pm EST.
For more information: https://uz.usembassy.gov/education-culture/exchange-programs/global-undergraduate-exchange-program/