"How can young people be better supported to thrive in green jobs?"
Our lives depend on the natural environment and our jobs and businesses depend on a healthy planet. A sustainable future requires a fast and just transition to a carbon and resource efficient economy.
Climate change and environmental degradation have already had huge global impacts, disrupting millions of jobs and livelihoods. However there are many opportunities ahead to boost the economy and improve our quality of lives by switching to a 'green economy'.
The United Nations Environment Programme defines a green economy as "one that results in improved human well-being and social equity, while significantly reducing environmental risks and ecological scarcities. In its simplest expression, a green economy can be thought of as one which is low carbon, resource efficient and socially inclusive."
An enormous number of young people around the world hope to pursue a green career, however do they feel equipped with the skills needed to meet the demands of the 'green jobs' market?
Each student is invited to submit one essay in English, entitled: "How can young people be better supported to thrive in green jobs?"
We want to hear students' own views on how they feel they can be better supported to succeed in the green jobs market. Students are invited to approach the topic however they wish. They are strongly encouraged include their own personal views, perspectives and experiences to help bring their thoughts and visions alive.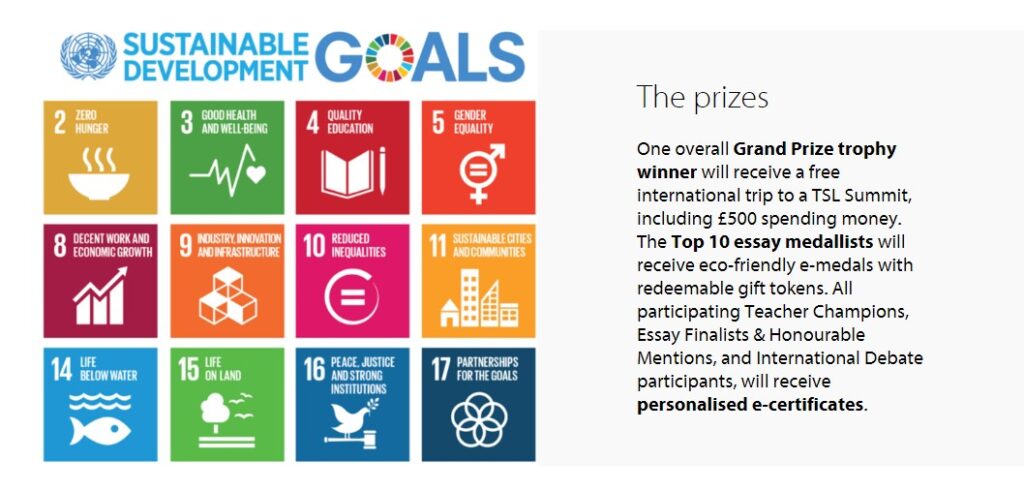 Key dates
11 January 2023Final deadline for essay entries.
01 March 2023Announcement of international essay competition Finalists & Honourable Mentions on TSL websites.
22 March 2023Grand Prize Trophy Winner & Top Ten Medallists notified (confidentially)
01 March – 31 July 2023Country Debates
Summer 2023 (date TBC)International Schools Debate & Awards (online)