Leaders of Change Foundation announces an open competition for candidates from Armenia, Azerbaijan, Belarus, Georgia, Kazakhstan, Kyrgyzstan, Moldova, Russia, Tajikistan, Ukraine and Uzbekistan for THE LANE KIRKLAND SCHOLARSHIPS in Poland in the 2022–2023 academic year
Application deadline is March 1, 2022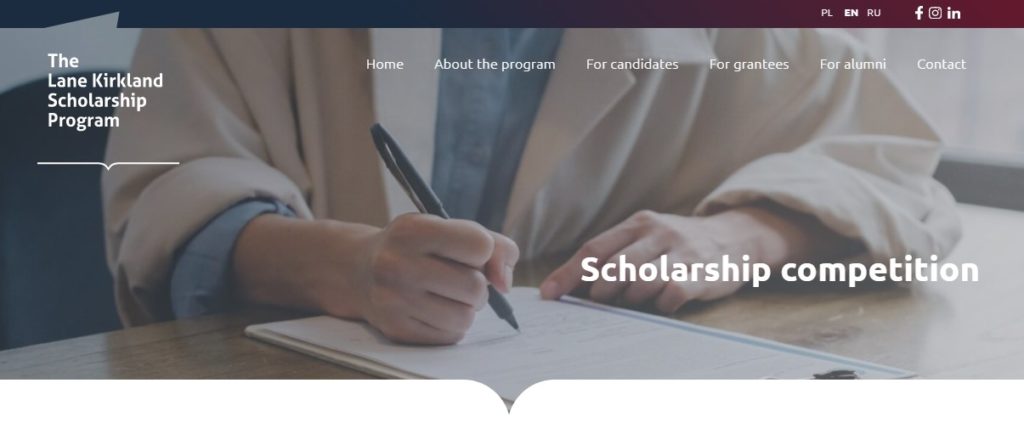 The L. Kirkland Scholarship Program has been supporting individual development of young, ambitious and active citizens of Eastern Europe, South Caucasus and Central Asia for 21 years. Since 2000, almost 1000 alumni have taken part in the Program. Among its alumni are eminent scientists serving as rectors and deans of universities, today's members of governments, parliamentarians, managers of large international corporations, heads of local government bodies and well-known social activists. The author and founder of the Program is the Polish-American Freedom Foundation. The Program is also financially supported by the Polish National Agency for Academic Exchange (NAWA).
The Program offers two semesters of studies in one of five Polish academic centers (Warsaw, Cracow,
Wrocław, Poznań, Lublin) and at least two weeks of professional internship in state, private and nongovernmental organizations. The program also offers an extensive training and workshop program.
The program is addressed to young leaders and experts, holding university degrees, interested in the
development of democracy, economy and civil society in their countries and the region.

FIELDS:
Economics and Management
Administration / Management (i.e. business, NGOs, culture, education and healthcare)
Public Administration (Central and Local Government Administration)
Law
Social Sciences (Social Psychology, Sociology)
Political Science and International Relations
Environmental and climate protection
Security and cybersecurity
Crisis management
Development Policy and Humanitarian Aid