THE VAL WOOD PRIZE FOR CREATIVE WRITING 2020: THE NEXT CHAPTER
July 22, 2020
419
The Val Wood Prize for Creative Writing 2020: The Next Chapter
Entries are now being accepted for The Val Wood Prize for Creative Writing 2020: The Next Chapter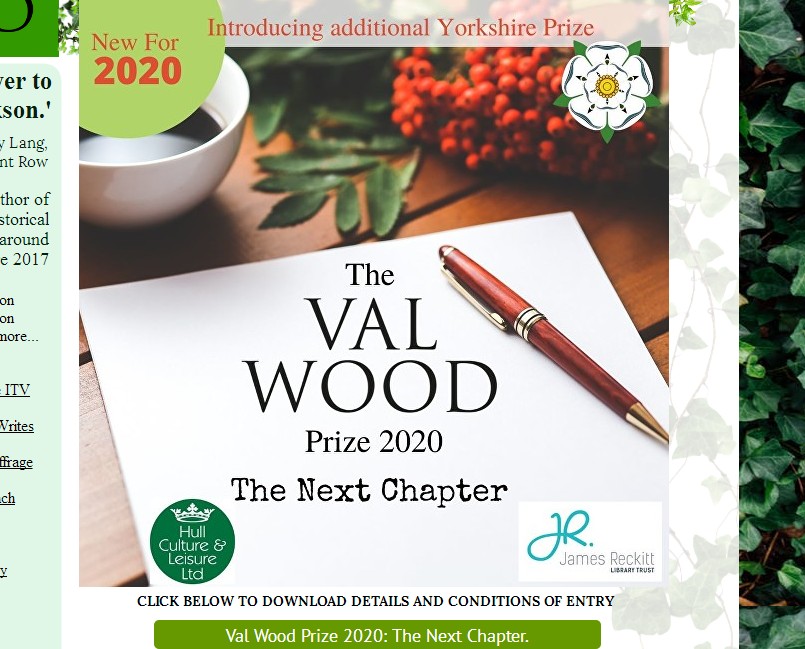 The overall theme of this year's competition has been chosen as feel-good and we want you to pack your entries with optimism, originality and creativity. The competition, is open to anyone over 16 years of age.
Entrants are free to write about whatever they wish as long as the theme is adhered to. Poetry will NOT be considered for the prize.
Annually, the competition receives a staggering amount of entries from all over the world and we want to keep that up.
Conditions of Entry
All entries must be typed in the form of a story (poetry will not be accepted) with a maximum word-count of 2000.
Entries must be typed on blank sheets in black font and no background images or patterns. It must be typed in Arial, Times New Roman or equivalent with 1.5 line spacing. This year, the competition is contact free and eco-friendly and entries must be submitted by email
Entries should be submitted on or before 5pm on 31 August 2020
CLICK BELOW TO DOWNLOAD
DETAILS AND CONDITIONS OF ENTRY