Meet more than 30 UK universities online and find the right one for you.
Thursday 05 November 2020 to Monday 30 November 2020
Online event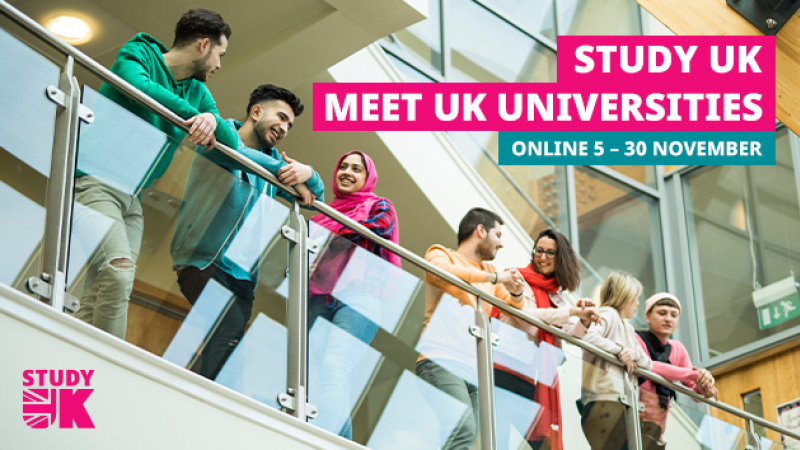 Join our first-ever digital Study UK event in Uzbekistan and find out what a UK education can do for you. We offer you a free month-long platform where you can find out all you need to know about studying in the UK.
We'll be joined by more than 30 UK universities who are at your disposal for one-to-one sessions on anything you'd like to know. The platform also offers information about special university scholarships, as well as the latest information about studying in the UK.
Who can join this event?
The event is suitable for students of all levels. Whether you are:
looking for your first Bachelor's degree – or exploring Master's or postgraduate
a seasoned traveller – or it's your first time abroad
you know the subject you want to study, and the university you want to apply to – or you've no idea where to start
this is your chance to get the information you need, directly from universities and experts.
What happens at the event?
Once you have registered on the platform, you'll be able to:
attend webinars about specific subjects and careers, and hear about different undergraduate and postgraduate courses
book private online conversations with participating UK universities
find out about the costs of studying and living in the UK, including scholarships and other funding options
get the facts about new visas for EU students
get tips on how to do your application
learn about English language requirements for UK study
ask your questions, get your answers – and start planning your UK study journey.
How do I take part?
The event is fully online, and it's open from 1 to 30 November. You can register from 5 October and start browsing the platform before the events go live.
You only need to register once. Just click on the registration button, and you'll go to a page where you'll have a few questions to answer about where you're from and what you want to study. Once you fill that out and receive a confirmation email, you are free to explore the platform and find out more about universities and subjects that interest you.