WHAT DOES IT MEAN TO GOVERN UNIVERSITIES EFFECTIVELY? | WEBINAR BY BRITISH COUNCIL
November 23, 2021
166
As part of our Going Global Partnerships programme, British Council in Uzbekistan is organising a live webinar on the topic of 'What does it mean to govern universities effectively?'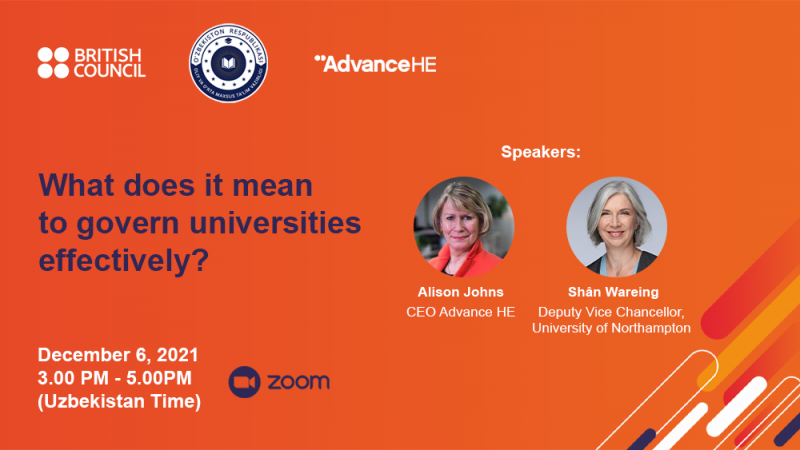 The webinar is a joint event of the British Council, Ministry of higher and secondary specialized education of the Republic of Uzbekistan, the 'El-yurt umidi' Foundation and Advance-HE. It brings together higher education professionals and academics from the UK and Uzbekistan so we could exchange knowledge and ideas.
Webinar outline
Building on our previous webinar exploring the conditions for good higher education governance, this webinar will take a deeper dive into these aspects and how they support institutional autonomy.  We will focus on what good governance means in practice for institutions and those working within them in relation to governing effectively.  We will explore how university leaders need to be creative in ensuring they are able to differentiate their institution as well as develop strategies and structures that support both values and ambitions.  We will draw on the experiences of the UK sector's journey to illustrate possible approaches and the importance of effective leadership in shaping the future which may be informative and applicable in the Uzbek context.
Monday 06 December 2021 -15:00 to 17:00
The webinar is in English with the translation into Uzbek.
How to join?
When you click on the webinar link given at the top of this page you can then enter these details:
Meeting ID: 916 6043 7122 
Passcode: 3U+it^