CALL FOR APPLICATIONS TO MA TESL WEBSTER UNIVERSITY, TASHKENT NOW OPEN
July 15, 2020
2835
WOULD YOU LIKE TO HAVE THE DIPLOMA OF WEBSTER UNIVERSITY?
We are currently accepting graduate applications for MA TESL (Master of Arts Teaching English as a Second Language) program offered at Uzbekistan State World Languages University. All applications to Webster University are submitted online.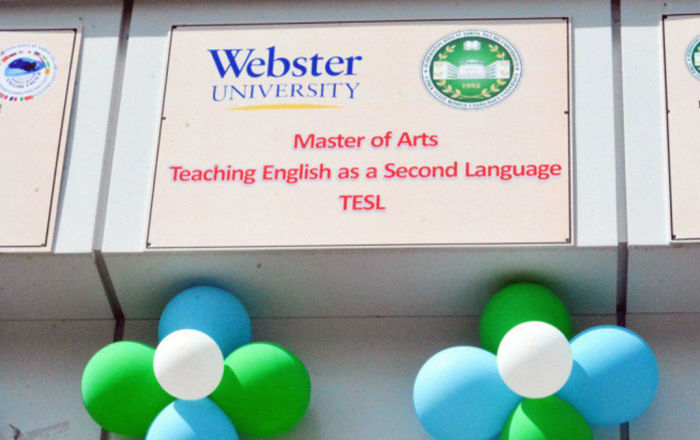 Webster University (USA) requires specific steps and qualifications for application to graduate programs.
Earned degrees: Applicants considered for admission to graduate studies at Webster University must hold an earned baccalaureate degree from an accredited educational institution recognized by Webster University and meet all program admission standards. Applicants who have a completed baccalaureate degree from a U.S. accredited institution must satisfy program requirements or requisites, including a 2.5 (on a 4.0 scale, at least 60 scores on rating system used in Uzbekistan) minimum cumulative Grade Point Average (GPA) for full admission.
Transcripts: Each applicant must submit an official, final transcript designating a degree and date of conferral from the degree-granting institution in order to complete the application file. Issued-to-student copies are not acceptable unless received in an unopened envelope certified with the official seal of the issuing institution. Any transcripts not issued in English will require a notarized English translation in addition to the official original language document. The admission decision will be made after all required documents are submitted through the online application. Applicants for a sequential master's degree must submit both undergraduate and graduate transcripts at the time of application if their degree was issued from an institution other than Webster University.
Proof of English Language Proficiency: Each applicant needs to demonstrate an ability to undertake the Webster program, which will be taught in English. Werequirestandardizedtestscoresfromallapplicants:
TOEFL iBT: minimum score of 80 (minimum writing score 22)
IELTS: minimum score of 6.5 (for MBA) or 6.0 (for MA TESL)
Pearson (PTE): minimum score of 53
We also accept scores from the following English proficiency tests:
Language Cert: C1 level
Duolingo English Test: 120 minimum score
For detailed information on proposed Tests, please visit their websites or search in Google.
Other documents required:
Copy of your passport
Most recent CV (Curriculum Vitae)
One letter of recommendation (if available)
For MA TESL – A one-page statement describing your teaching philosophy
4 photos – 3,5×4,5
Application requirements by program: Upon completion of the admission file, it will be reviewed and a decision will be rendered by the respective department of UzSWLU.
Duration of studies for MA TESL program is 1 YEAR (from August until the end of July annually).
Tuition fee – $US 4200, which will be paid twice a year in national currency of Uzbekistan according to the exchange rate of Central Bank of the Republic of Uzbekistan on the date of payment.
Graduates of the program will get a diploma of Webster University and international TEFL certificate.
For fast consideration and counselor contact, apply online now. After you submit your application you will learn what additional documents are needed to complete your application (if necessary). Before submitting your application, please use "tash" as a waiver code to waive your application fee, i.e. applicants from Uzbekistan are exempted from application fee of US$ 50 if they insert promo code "TASH" in a section – payment for application.
Graduate Program Start Dates and Application Deadline
MA TESL: The MA TESL program starts every year in our Fall Semester at the end of August.
The deadline to apply to Webster University is July 31, 2020.
Admissions Contacts in Uzbekistan State World Languages University
Contact us for further information about admissions and other related matters.
E-mail: mrx191267@gmail.com
Call our admissions office or write via Telegram if you need additional information between 9am and 6pm, Monday to Saturday.
Tel: +99871 230 1343, Tel/Telegram: +998 90 946 77 36
For more information, please visit http://www.webster.edu/admissions/
Graduate admissions or https://sites.google.com/view/webstertesl/tesl-in-uzbekistan.
You can also watch YouTube video on admission to MA TESL at https://youtu.be/xYPYM0d06vk
GOOD LUCK!