Study of the U.S. Institutes for Scholars (SUSIs) is an intensive post-graduate level academic program with integrated study tours whose purpose is to provide foreign university faculty and other scholars the opportunity to deepen their understanding of U.S. society, culture, values, and institutions.  The ultimate goal of the Institutes is to strengthen curricula and to enhance the quality of teaching about the United States in academic institutions abroad. The Institutes will be conducted as traditional in-person programs at U.S. host institutions.  Should health, safety, and travel conditions continue to pose significant challenges, the programs will pivot to a modified virtual format.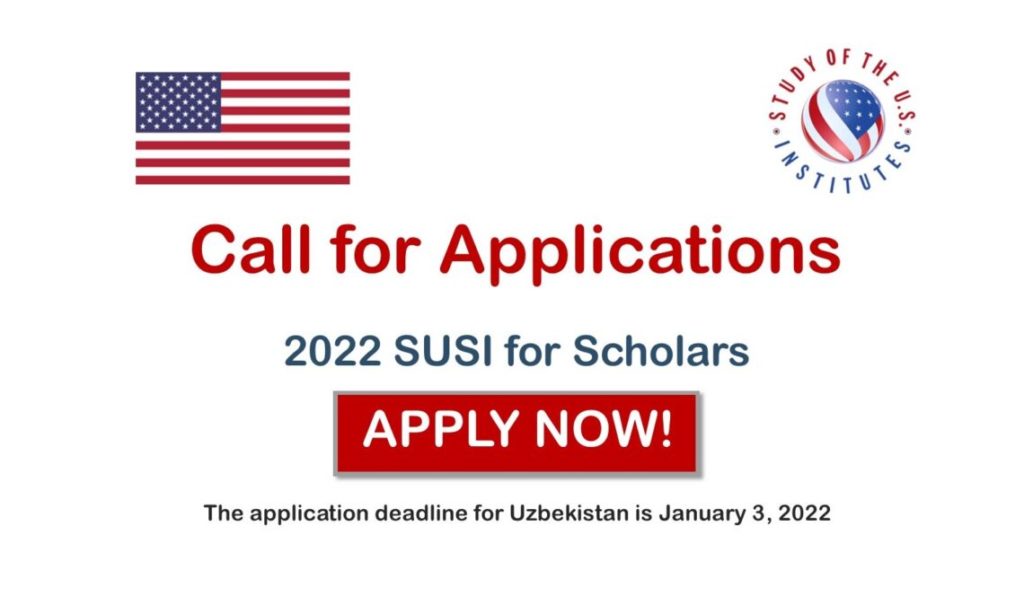 Study of the U.S. Institutes for Scholars will include the following themes in U.S. Studies: Journalism and Media; U.S. Economics and Business; U.S. Foreign Policy; and Workforce Development.
A completed application package must be sent to TashkentFulbright@state.gov by 18:00 (local time in Uzbekistan) on January 3, 2022.
For more information: https://uz.usembassy.gov/education-culture/exchange-programs/study-u-s-institute-susi-scholars/?fbclid=IwAR3j_dQ8oTBG3o6lSwAAU7xMYJGiwQJeLCIYmu8Z6VfB7gkworGPKZRsDfI