ERASMUS MUNDUS SCHOLARSHIPS 2022 | FULLY FUNDED STUDY IN EUROPE
January 20, 2022
653
Applications for Erasmus Mundus Scholarships 2022-2033 are now open for international students. A wonderful opportunity to pursue your Master's and PhD programs in Different European Universities in different countries.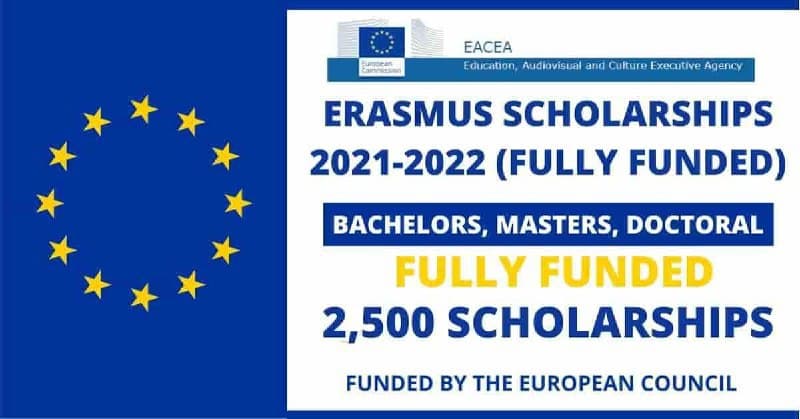 Erasmus Mundus Scholarship is fully funded, and the Scholarship would cover all expenses. You have an open choice to Study any Field from any Europe University.
Details about Erasmus Scholarships 2021-2022
Scholarship Country: Europe, and other Countries
Funded by: European Commission
Financial Coverage: Fully Funded
Degree Level: Bachelors, Masters, PhD
Deadline: Varies from Course to Course (Applications are open till March End)
What is Erasmus Mundus Award?
Basically, the Erasmus Mundus grant is a fully-funded scholarship awarded to students from EU countries and Non-EU countries.
These Erasmus Mundus scholarships covers your participation costs to the EMJMD. The scholarship will pay for:
Tuition fees
Insurance
Library or laboratory costs
Travelling Allowance.
No bond restrictions; you can return to your home country.
After Master's/Ph.D. degree job visa will be granted
Other academic costs that are required in order to participate in your chosen Master's degree
Only students who are admitted into one of Erasmus Mundus' eligible courses can receive this financial support.
Also, the amount will depend on the duration of the program and your country of origin.
Subjects and fields of Erasmus Scholarships 2021-2022
Computer Science
Engineering
Business
Economics
Law
Erasmus Mundus Scholarships Bachelor
Erasmus Mundus Scholarships Master